Ce blog statique prend le relais de davonline.com et du davblog suite au manque de fiabilité des bases de données et aux ralentissements causés par le pistage des internautes. Vous y retrouverez au quotidien l'actualité de la Science-fiction mise à jour au fur et à mesure de mes connaissances, ainsi que de nombreux .pdf gratuits.
***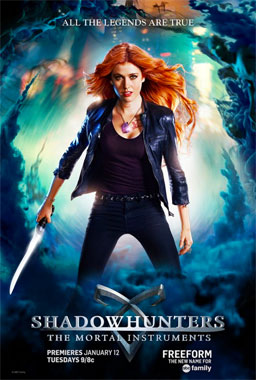 Shadowhunters 2016**
Mary Sue - Fantasy Urbaine - Fantastique - Démon - Ange - Loup Garou - Vampire
***
Shadowhunters
Traduction du titre original : Les chasseurs d'ombre
Adapté d'un roman
***
Diffusé aux USA à partir du 10 mai 2019 sur NETFLIX FR.
***
De McG (également réalisateur) et Ed Decter (également scénariste), d'après le roman Les instruments mortels (The Mortal Instruments, 2007) de Cassandra Clare ; avec Katherine McNamara, Dominic Sherwood, Alberto Rosende, Emeraude Toubia, Stephen R. Hart, Matthew Daddario, Harry Shum, Jr., Isaiah Mustafa.
***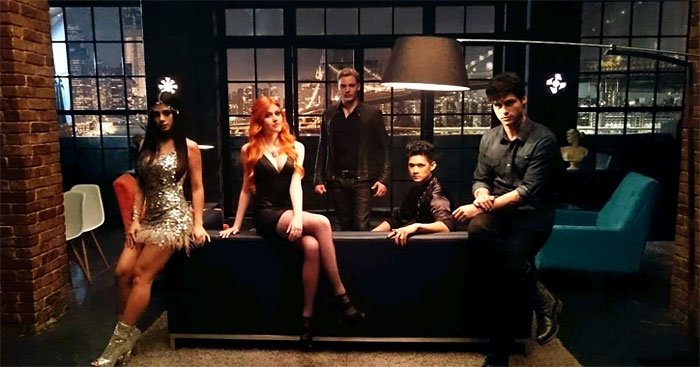 Pour adultes et adolescents
Clary Fray découvre le jour de ses 18 ans qu'elle descend d'une lignée de chasseurs de démons, capables de lancer des sortilèges à partir de glyphes apparaissant sur leurs corps.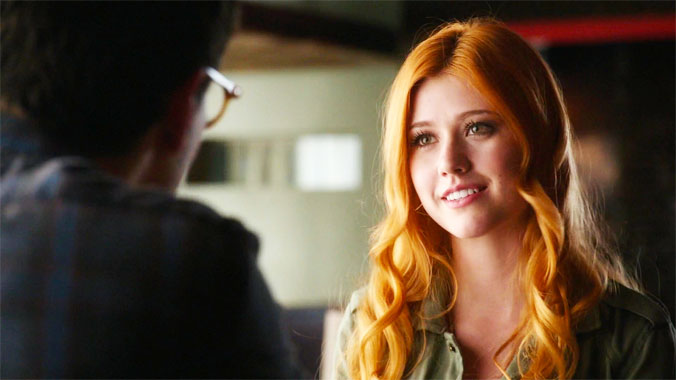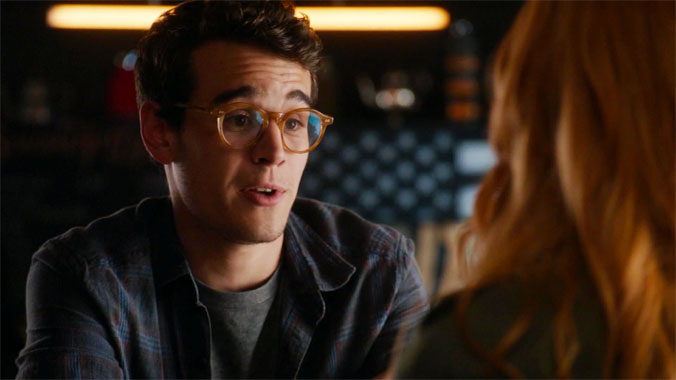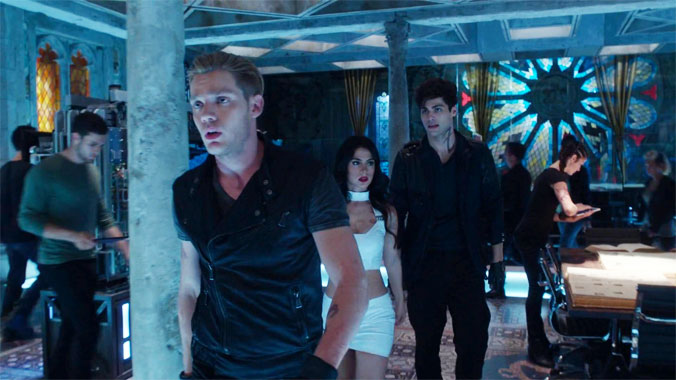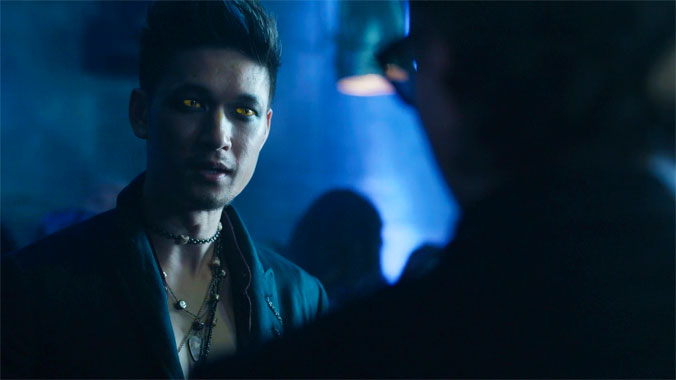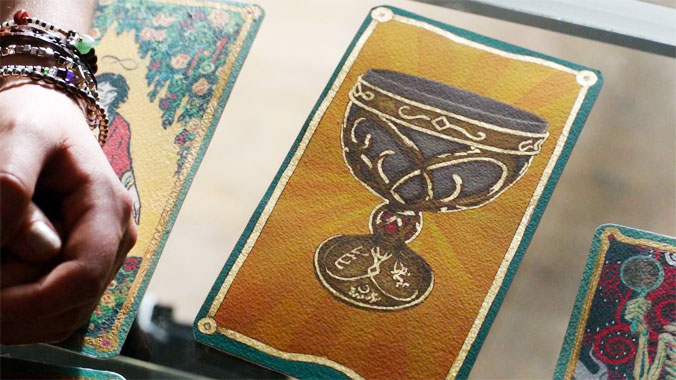 ***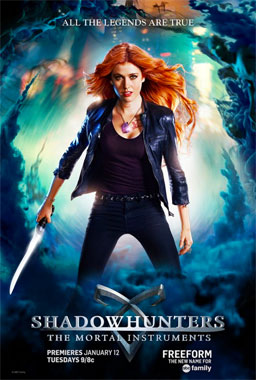 Saison 1
(2016 - 13 épisodes)
Shadowhunters S01E01: La coupe mortelle (The Mortal Cup)
Shadowhunters S01E02: La descente aux Enfers est facile (The Decent Into Hell Is Easy)
Shadowhunters S01E03: La fête de l'Homme Mort (Dead Man's Party)
Shadowhunters S01E04: Faire monter l'Enfer (Raising Hell)
Shadowhunters S01E05: Du Mu-Shu doit partir (Moo Shu to Go)
Shadowhunters S01E06: Des hommes et des Anges (Of Men and Angels)
Shadowhunters S01E07: Arcane majeure (Major Arcana)
Shadowhunters S01E08: Mauvais sang (Bad Blood)
Shadowhunters S01E09: Lève-toi (Rise Up)
Shadowhunters S01E10: Le monde inversé (The World Inverted)
Shadowhunters S01E11: Le sang appelle le sang (Blood Calls to Blood)
Shadowhunters S01E12: Malec (Malec)
Shadowhunters S01E13: Étoile du matin (Morningstar)
***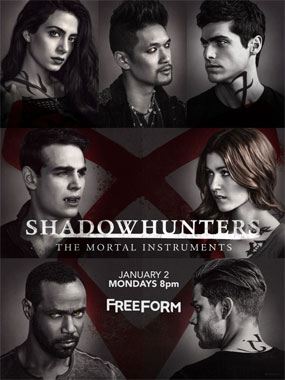 Saison 2
(2017 - 20 épisodes)
Shadowhunters S02E01: Sang maléfique (This Guilty Blood)
Shadowhunters S02E02: Une porte sur les ténèbres (A Door Into the Dark)
Shadowhunters S02E03: Parabataï perdu (Parabatai Lost)
Shadowhunters S02E04: Jour de rage (Day of Wrath)
Shadowshunters S02E05: Poussières et ombres (Dust, and Shadows)
Shadowshunters S02E06: Les soeurs de fer (Iron Sisters)
Shadowshunters S02E07: Comment es-tu tombé ? (How Are Thou Fallen)
Shadowshunters S02E08: L'amour est un démon (Love is a Devil)
Shadowshunters S02E09: Liens de sang (Bound by Blood)
Shadowshunters S02E10: à la lumière de l'Aube (By the Light of Dawn)
Shadowshunters S02E11: Ma très grande faute (Mea Maxima Culpa)
Shadowshunters S02E12: Ceci n'est pas mon corps (You Are Not Your Own)
Shadowshunters S02E13: Le sang du démon (Those of Demon Blood)
Shadowshunters S02E14: Les fées(The Fair Folk)
Shadowshunters S02E15: Un problème de mémoire(A Problem of Memory)
Shadowshunters S02E16: Le jour du grand pardon (Day of Atonement)
Shadowshunters S02E17: Un reflet ténébreux (A Dark Reflection)
Shadowshunters S02E18: Réveille-toi, Lève-toi ou soit déchu à jamais (Awake, Arise, or Be Forever Fallen)
Shadowshunters S02E19: Salut et adieu (Hail and Farewell)
Shadowshunters S02E20: Au bord de l'eau qui dort (Beside Still Water)
***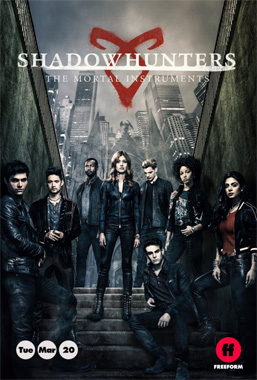 Saison 3
(2018 - 22 épisodes)
Shadowshunters S03E01: En terre infernale (On Infernal Ground)
Shadowshunters S03E02: Les autorités suprêmes (The Powers That Be)
Shadowshunters S03E03: Apparence (Thy Soul Instructed, Ton âme édifiée)
Shadowshunters S03E04: Ton âme éclairée (Thy Soul Instructed)
Shadowshunters S03E05: Plus fort que le Ciel (Stronger Than Heaven)
Shadowshunters S03E06: Fenêtre sur chambre ville (A Window Into an Empty Room)
Shadowshunters S03E07: Du sel sur la plaie (Salt in the Wound)
Shadowshunters S03E08: Un coeur de ténèbres (A Heart of Darkness)
Shadowshunters S03E09: La famille avant tout (Familia Ante Omnia)
Shadowshunters S03E10: Arriver (Erchomai)
Shadowshunters S03E11: Âmes perdues (Lost Souls)
Shadowshunters S03E12: Péché originel (Original Sin)
Shadowshunters S03E13: Heureux soient les guerriers (Beati Bellicosi)
Shadowshunters S03E14: Le baiser d'une rose (A Kiss from a Rose)
Shadowshunters S03E15: Aux enfants de la Nuit (To the Night Children)
Shadowshunters S03E16: Reste avec moi (Stay With Me)
Shadowshunters S03E17: Le feu céleste (Heavenly Fire)
Shadowshunters S03E18: La bête à l'intérieur (The Beast Within)
Shadowshunters S03E19: Je t'aime (Aku Cinta Kamu)
Shadowshunters S03E20: La cité de verre (City of Glass)
Shadowshunters S03E21: Alliance (Alliance)
Shadowshunters S03E22: Toutes les bonnes choses (All Good Things)
***
En bref : Seconde adaptation des romans après la demi-réussite du film de The Mortal Instrument 2013, Shadowhunters joue à fond la carte de la Mary-Sue et de la Fantasy chiché kitch. Mais avec aux commandes, McG veille, et cherche jusqu'à un certain point la fidélité aux romans pour s'assurer de la fidélité des fans. Résultat des courses, et contrairement à tant de séries et de films en ce moment, les intrigues et le merveilleux de fantasy sont des promesses tenues, et même si l'héroïne est une Mary Sue cruche jusqu'au bout de ses racines teintes, Shadowhunters est l'une des rares séries de Fantasy digne de ce nom.
Malgré son succès d'audience, la série est annulée à la troisième saison, mais là encore, la production tentera l'impossible pour satisfaire les fans en adaptant et bouclant toutes les intrigues en arc tambour battant en dix épisodes puis un final en deux parties, d'où un rythme très précipité voire même compressé qui peut paradoxalement frustrer.
Notez enfin que la série bénéficie d'une édition blu-ray allemande de qualité exceptionnelle pour au moins ses deux premières saisons, tant du point de vue de l'image que du son, ce qui révèle parfois un jeu d'acteurs plus subtil et convainquant que ce que j'avais pu distinguer de la prestation sur Netflix, sans doute encore trop compressée numériquement.
***
FIN DE LA PAGE